Posted on | Sunday, March 6, 2011 | No Comments
Week three! It's a good thing that I have to widdle my way down to ten things, right? I think so, at least. Loving stuff/people/ideas/things is wonderful. And a really great way to end a week.
1. Penny Loafers
I bought these last week and I adore them. I normally don't do well with this kind of shoe, they usually result in painful blisters and scrunched up toes. Not these guys! They fit like a dream. And look how CUTE they are!
2. Cupcakes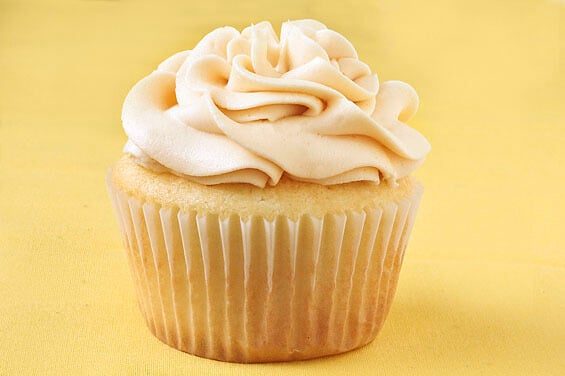 These
vanilla almond cupcakes with salted caramel buttercream
icing, to be exact. They will be at my wedding. Oh yes. Just
look
at them. They oooooze delectability and perfection.
3. Waffles
Someone please tell me they know where to find this incredible waffle iron. Pretty please? It's a KEYBOARD WAFFLE IRON, GUYS. Do you know how awesomely cool that is?! I would be making waffles every weekend, from
SCRATCH
. Just to use this bad boy of culinary epicness.
4. Clouds
I wish I had come up with this idea. I love it when the weather is light and beautiful and I can just go outside and look at the shapes clouds make. This just takes that to another level entirely.
5. Harry Potter
The books, not the movies. Although I like the movies, I don't
love
them. The books though? About once a year I go back and read them. It's like seeing an old friend again. I usually read books four through seven (I have lost ther first three and have no idea how), and even though I know what's coming it still makes my heart go pitter-patter and I fall in love with the characters all over again.
6. Bento Boxes
I love
bento boxes
. Turning a drab meal into something exciting. I mean, who
wouldn't
want to have a Calvin and Hobbes caricature lunch?! I keep telling myself that I'm going to start making my own bento boxes, but for some reason it's still stuck on the list of things "I'm going to do". Between my current culinary experiments and the fact that I leave work before I eat lunch I simply haven't motivated myself to doing it. Yet.
7. Less Than Six Months
Okay, so it won't be exactly like this (my dress will be prettier and we will be far more awesome). But darnit, it'll feel like that. I seriously cannot wait.
8. Beaches
Where is this place and how can I get there? It looks absolutely perfect. The clouds, the amazingly pristine ocean, the white beaches with gorgeous greenery. I want to jump into this photograph and just be. Breathe in the salty air and feel the wind swirl my hair about as I soak in all the fabulous vitamin D. Alex, if you tell me that this is somewhere in Florida we can move next week.
9. Tea
I'm not a big tea drinker but I
love this idea
. I think it would make me into a tea drinking fanatic if I had the opportunity to make art every time I made a delicious mug of Earl Grey or Raspberry Zinger.
10. Coffee
Of course I can't love tea without loving coffee. Or at least loving the coffee receptical. i really love the idea of changing "I wish" into "I will". It's the same as eliminating the word "should" from your vocabulary and replacing it with "I want" and "I need. Saying "I wish I were healthier" or "I should take better care of myself" does nothing. But, saying "I want to be a healthier person and I will change how I take care of my body".
That
changes things.

Comments
About
I was born and raised in California. I have also lived in Hungary, Texas, Alabama, Oklahoma, and I will be moving again this summer. Kael is my incredibly awesome kiddo who is growing up far too quickly, and Alex is my fiance who makes me happier than should be legally allowed. I write about them a lot. I'm mildly obsessed with cooking and photography. I write about those things, too.

Archives

Blogroll